Our development platform makes blockchain development

easy and reliable

.

BlockchainAPI is a suite of tools that includes a feature-rich API and an easy-to-use system for accepting cryptocurrency payments.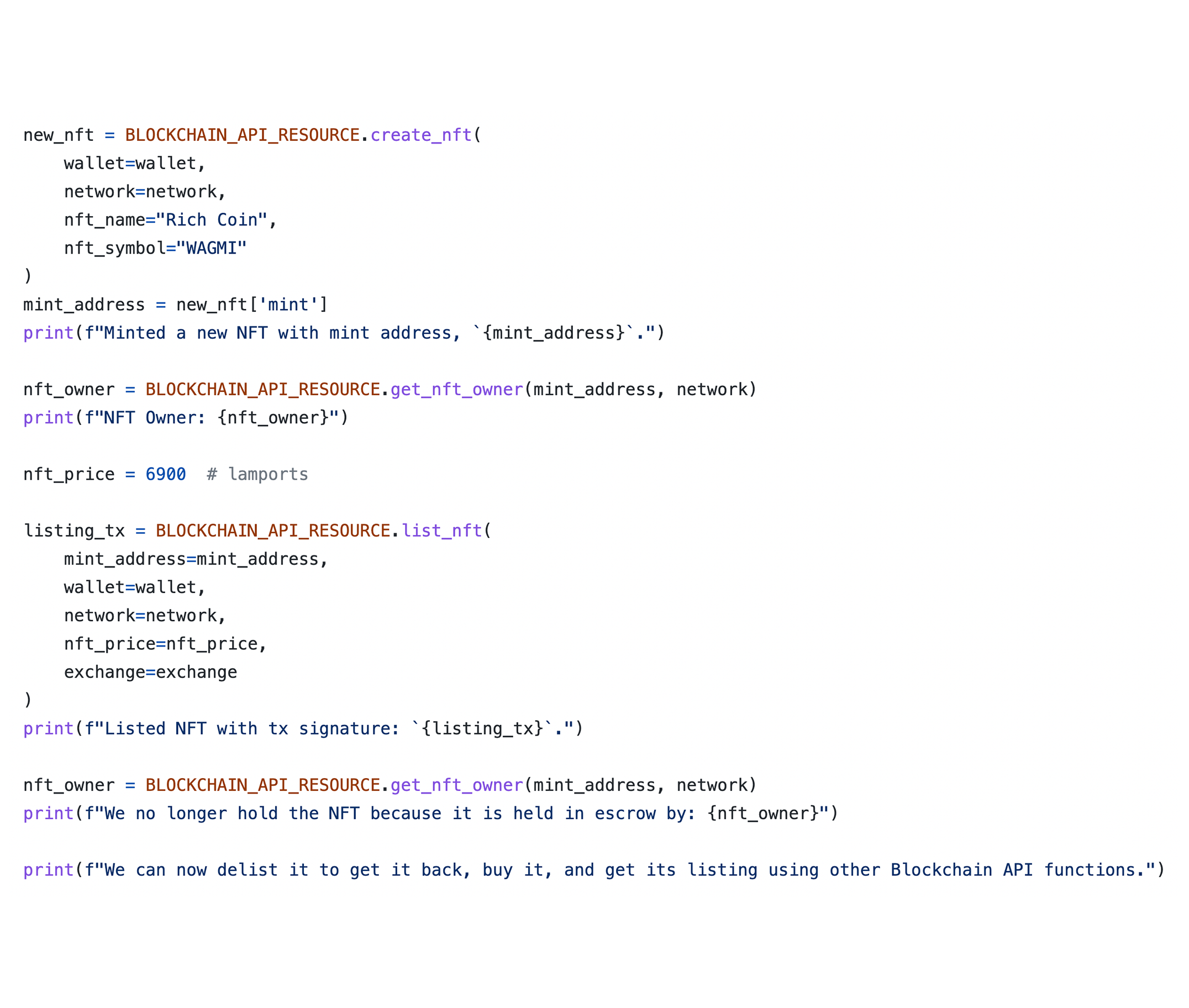 Why use Blockchain API?
Direct blockchain integration is overkill for most developers. BlockchainAPI is easy to use and understand with no prior blockchain or Web3 training or prior experience.
Quick and Easy Integration

Simple to set up and integrate with any coding language. We provide SDK support for Python, JavaScript, TypeScript, C#, Swift, Kotlin, and others.

A Powerful API

Our API handles tens of thousands of requests per minute and has a 99.9% uptime. Our API is resilient and battle-tested.

Email Updates

Get traffic spike notifications so you don't have to deal with unwanted metered usage charges and are always in touch with your API usage.

NFT Integrations

We provide flexible integrations with NFTs on Solana, including creating an NFT, minting NFTs from candy machines, reading the NFTs' owner history, and analyzing collection statistics.

Wallet Infrastructure

We enable wallet creation on Solana, Near, Ethereum, Avalanche, and Binance. We have in-depth wallet functionality for the Solana blockchain, such as analyzing ownership and transferring assets.

Crypto Payments

Our CryptoCheckout product enables developers to easily accept one-time and recurring payments in crypto. We trust our product so much that we use it for our own company to accept recurring payments in crypto.

Privacy First

We are transparent with specifically the data record. We log the type requests you make specifically but never store sensitive information that you provide to us.

Tools You Need

We're consistently building tools to help developers and NFT collections use blockchains more effectively.
Ready to get started?

Start for free today.